Get setup with Dalamud
Before you can install IINACT, you will need to get Dalamud set up and installed.
On Windows, you can use XIVLauncher.
On macOS, you should use XIV on Mac.
On Linux or Steam Deck, you should use XIVLauncher.Core.
Add the IINACT repository
IINACT is a third party plugin. To install it, you will need to add the IINACT plugin repository, https://raw.githubusercontent.com/marzent/IINACT/main/repo.json
Once you have gotten setup with the launchers described above, open Final Fantasy XIV and verify that Dalamud has loaded in correctly. If it has, the Dalamud logo will appear in the top left corner of the title screen. Hover your mouse over this icon, and click Plugin Installer, then click Settings.
Navigate to the Experimental tab. Scroll down to the "Custom Plugin Repositories" section.
Copy and paste the IINACT plugin repository URL into an available text field, then click +. Click the Save (diskette) icon.
Once done, it should look like the below: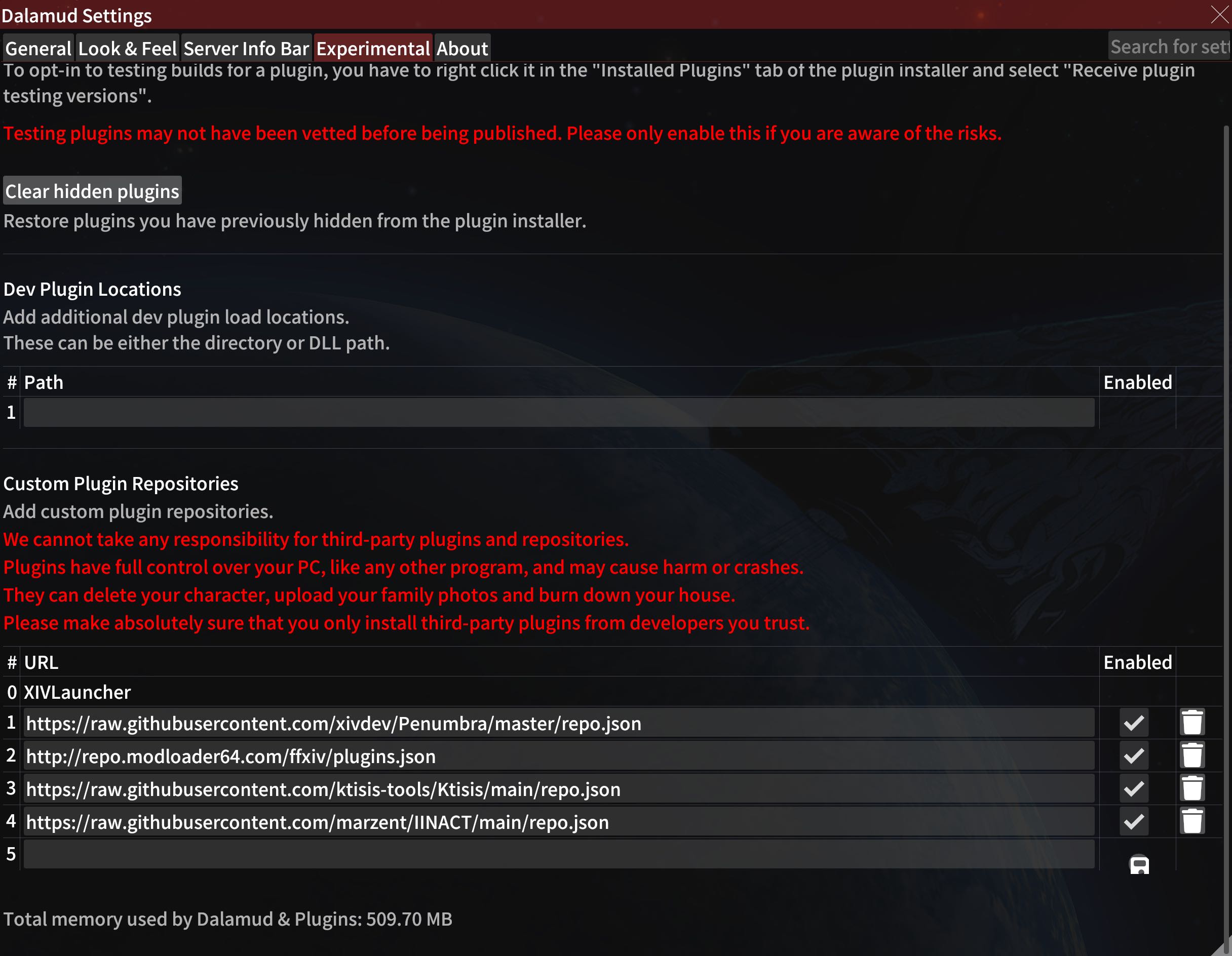 Ensure that the Enabled checkbox next to the entry for IINACT is ticked.
Install and enable IINACT
Close the Settings window and navigate back to the Plugin Installer. It should have automatically refreshed.
Search for the IINACT entry in the plugin listing. Click to install it.
IINACT should now be installed and enabled: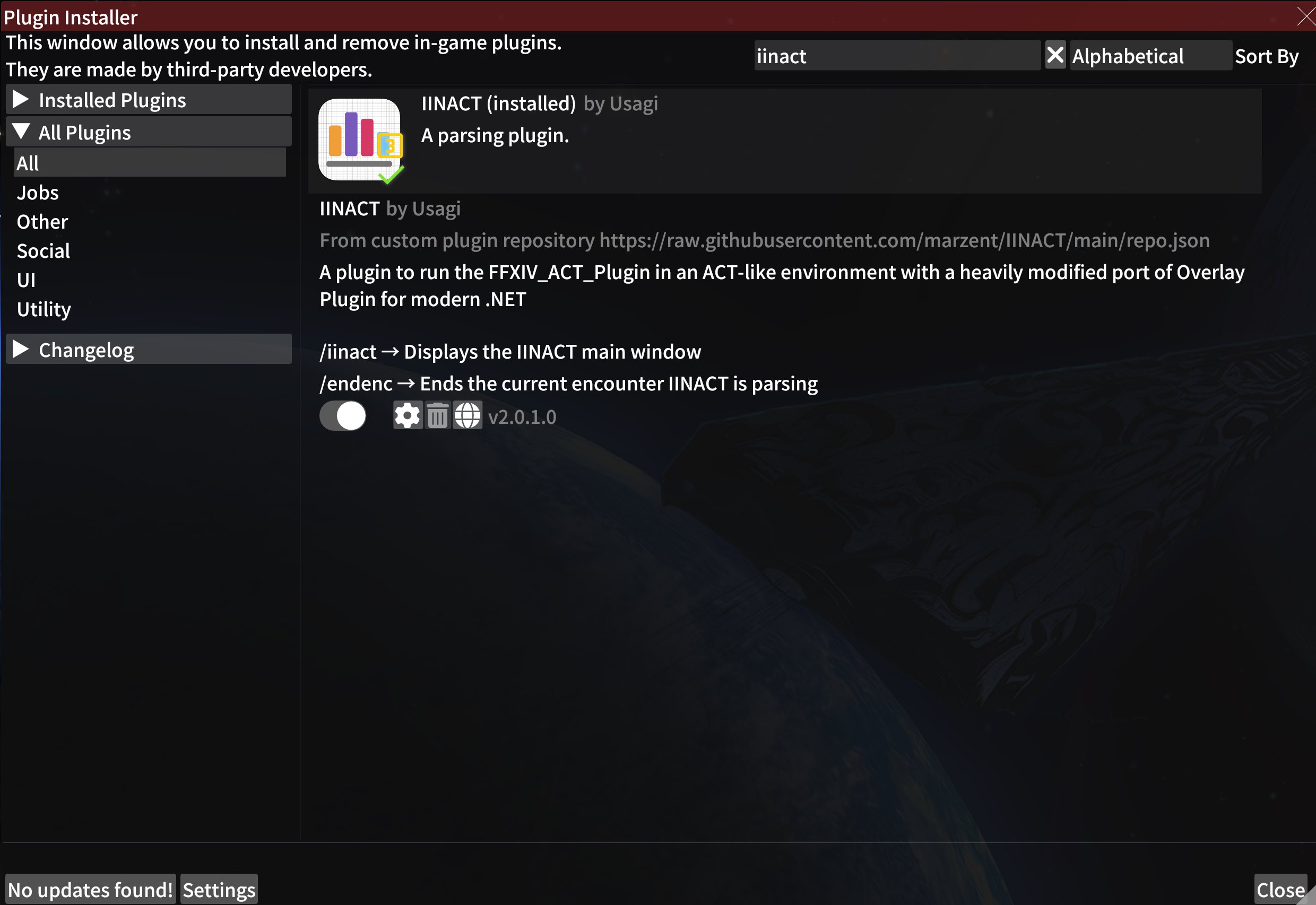 Install and configure an overlay application
IINACT is a standalone parser and does not provide overlays.
You will need to install and configure an overlay application such as BunnyHUD (macOS), HUDKit (Linux) or Browsingway (Windows).
IINACT can automatically generate an overlay URL for you. To do this, run the /iinact command in chat.
Select from one of the available overlays and copy the URL into your overlay application: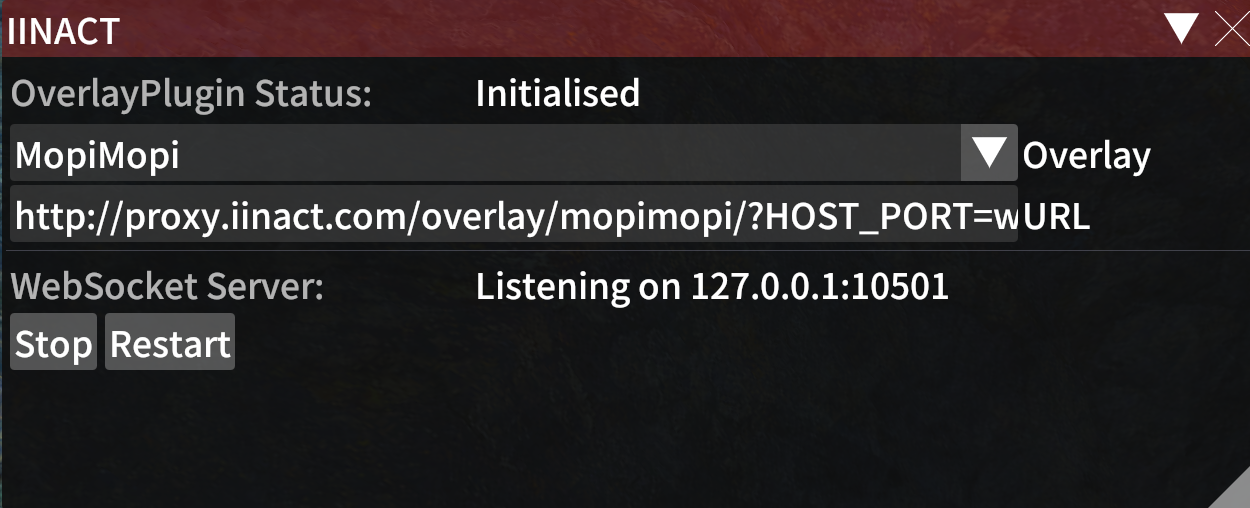 Reporting issues
If you run into any problems, please feel free to report them on GitHub: https://github.com/marzent/IINACT